The Indecent Assault Happened on Me in Yantai
How the incident happened:
It was quite cold at 4:20 a.m on 18th of October in 2017 in Yantai city (the city is the one of secondary cities in China, the second biggest city in Shandong Province. Permanent resident population is over 7 million).
I got up at 4 a.m before dawn. Today I have flight from Yantai to Shanghai at 7:30 in the morning, so I planned to walk to the nearest airport shuttle stop (JiaShiKe Airport Shuttle Bus Stop) from hostel, which takes 5 mins to walk on foot, around 800 meters in total. There is no metro in Yantai and by shuttle bus is the most convenient way to Penglai Airport which based in Yantai city.
At the moment, it's still completely dark in the sky. I took lift from 13th floor to 1st floor and walked toward the big gate of the complex. When I walked out of my building, there was nobody, several faint light of the high-rise apartment just up.
When I almost arrived at the gate of complex, I met a woman. She was walking into complex and I was walking out. I quickly glanced at her up and down. This woman has curly hair, she is wearing miniskirt with high-heeled shoes. She was walking with her head down. Maybe my phone torch dazzled her, she looked up at me. I was carrying a red backpack and my laptop is inside. I was pulling my pink small luggage. I was black leather-jacketed with blue jeans, white sneakers.
When I just walked out of the complex, I found there was no guards at gate. There was only a taxi stopping. Red 'Empty Taxi' light is on, but no driver. I curled my lip and go on walking forwards.
I didn't plan to take a taxi. Yesterday when I walked off my plane, I took same shuttle bus from airport to here. In consideration of smooth walking for today, yesterday I specially didn't take taxi, even though I was carrying many products that I bought from Korea for my friend and relative. But yesterday night I delivered all these stuffs to their cities, I will not have much luggage at all. So I was thinking in this case, it takes at most 7 or 8 minutes to walk from home to shuttle bus stop. That's totally fine.
I was walking and checking on my phone how long and how much it takes from here directly to airport. I was making second plan in case I missed the first shuttle bus which will depart at 4:40 a.m.
Ok, first I'll tell about surroundings of my hostel. I'm a quite frequent flyer. I fly everywhere for traveling and working in the world. Especially abroad, I couldn't be more careful while I choose my accommodation. At this time, I chose one capsule hostel on Airbnb. I didn't try sleeping in the capsule hostel before and I thought it would be an interesting experience. The capsule hostel is located in one high-grade residential complex which is called "Century Superb Complex" in Laishan district of Yantai city. There is city center. The owner of hostel was a nice lady. Before the day of the incident happened, she took me and other visitors together, we drove to one near home night market to walk around. During our visit to this night market, she introduced to me all surroundings and so on, so I clearly understand that the People's Government Building, police station and the biggest university of Yantai are located just nearby one or two streets away.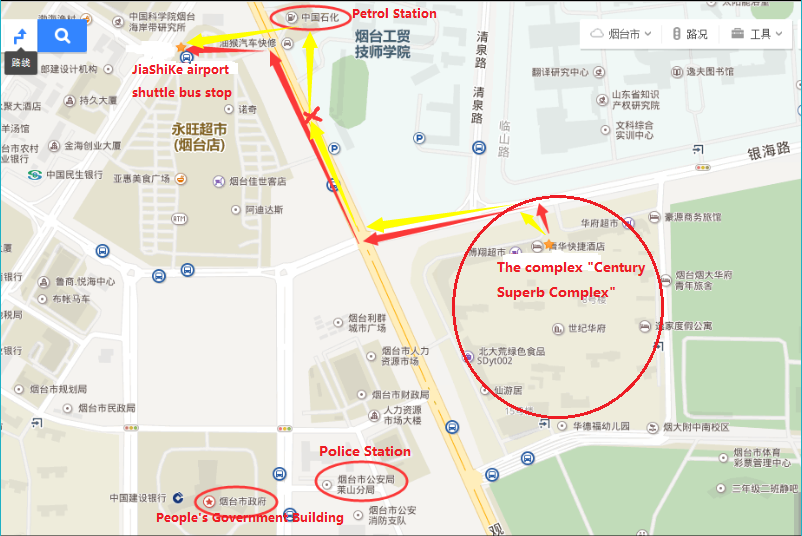 The red arrows show the regular common route from complex to JiaShiKe shuttle bus stop;
The yellow arrows show my actual walking and escaping route;
The red cross is where incident happened and where I fought with the bad guy;
Just then, I crossed the road which opposite complex and started walking along the sidewalk, from the east to the west. When I just passed the first traffic light and I caught a glimpse of a dark black motorcycle in the middle of the road. They were 20 meters far from me on my right-hand side. Their motorcycle is just same as in the movie, that kind of motorcycle for drag racing with big booty. On the motorcycle sitting two young men. One of them is black hair, the other with dried yellow hair. My first response was like "Ugh, again, drag racing, noisy and dangerous." I gave few reproving glances at them and go on walking. My direction was along the street from the east to the west, but their motorcycle direction was from the south to the north. There was a dark and long road in front of them. So I understood them in a natural way – they gonna start one dangerous drag racing towards that way. Opposite street there was a car turning right. I was standing there and waiting the traffic light turns to green.
Exactly at this moment, the yellow hair man who sat in the back seat turned around his head and saw me. He was staring at me and whispered with his partner. Traffic light turned to green, I felt uncomfortable, glanced at them last time and go on walking. While I passed the zebra crossing, I cast glance at their direction with sidelong eyes vision quickly. What I saw is the yellow hair man took off from motorcycle and he was walking towards to me. My heart jolted and I quicken my steps.
If pass next block and I need to turn right, I looked sidelong at my back from time to time. The yellow hair slowly walked behind me, but he still kept a bit apart. But I'm not sure if he is following me or not. As you know, all here surroundings are residential areas, shopping malls and so on. If I call police now, but I will feel so shameful if he just came back home same direction as mine. But take my personal safety into consideration, I still took out of my phone from my pocket and pretended calling somebody. I was talking like "Aha, yes yes, I saw your car, you can drive directly to me." I was pretending to talk in phone and walking towards to the middle of the main road where are cameras and street lamps. There were no street lamps at all on the sidewalk, I was really terrified.
Finally, I almost was walking fast in the middle of the main road (Guanhai Road). There was no car, no person at all. The yellow hair man walked behind me and towards to the middle of road too, more and more near, I eventually made sure his intention and feel scared.
I quickly planned in my heart. If I turn left and walk straight around 150 meters, I'll arrive at airport shuttle bus stop. But I have to cross a part of woods where have no light at all! I quickly figured up the odds of being raped and killed in these woods and immediately gave up this plan. I walked fast and looked around, at the moment, I saw one petrol station around 100 meters away from me on my right-hand sight. I made a decision.
The next moment, while the yellow hair man was far from me less than 3 meters, I suddenly threw away my pink suitcase and started running fast towards to petrol station. But still too late, yellow hair charged towards me in a big stride and hold my neck tightly in his arms from my back. "Hey, beauty, do you know how to get there? Let's go there together to have fun?" His alcohol breath to my face was sick and so gross.
There were numerous pictures flashed through my mind at this moment. "Young college female student was raped and killed by migrant laborer near campus", "Vladik waited for me four hours when he came to China at the first time", "Sam's spirit has freed itself from the body", "Yesterday night I ate rice noodle and it was so tasty"…
…Rice noodle! Yes! I don't want to be raped and killed!!! I still didn't try so many food!!! So many places I didn't visit yet!!!
I turned back and exhausted with all my strength to squirm out of his arms. Then I start scratching and hitting his face by exerting all my strength. I used to tease at women when they fight with each other. Pulling hair, spitting and scratching face were so weak, absurd and ridiculous. But I started to understand that it's probably normal physiological reaction for self-defense to women. Even though I have watched tons of videos about self-defense, there was nothing in my brain about fighting strategy at that moment. I know that I should attack his balls, belly, and I should wrench his wrists. But I could think of nothing in this moment.
Here am I. In the middle of the Guanhai Road, the main road of the city, exactly under the camera, I was vehemently fighting with this terrible young man with yellow hair. I was fighting with all my strength to his everywhere, and trying to prevent him to touch my body and undress me, and yelled at him loudly "I just called the police, you just stay here and wait for them!!!"
He looks like being called to mind that I was calling somebody. He stared at me and was frozen with a shocked expression. Few seconds passed, he returned to evil face. Then he reached out to my chest with a revengeful smile and pushed me with all exhausted strength. I just on the half of my getting up, by that I lost my balance and fell down on the road again. Exactly at this moment, he ran away towards the negative direction where we were.
I didn't expect that and stand in amazement few seconds. When I saw him running away around 10 meters, the only voice in my mind is – I SHOULD RUN FAST, NOW!!!! If he is going to call his partner, I will be too hard to escape. I started running and calling police at the same time. My poor pink suitcase was kicked away by him, trolley handle is broken, and I left it without me again.
When I reached to the petrol station, I stood under the bright light. The policemen told me they are driving to me and they soon will arrive. I finally felt relieved and never rejoiced in my good fortune so much before.
How the bad guys look like:
– Two men, both of them are Chinese.
– One black hair with a black jacket. He was driving the motorcycle and didn't come with the other one.
– With whom I fought was a young man with dried yellow hair. Shandong accent. Medium height, around 170-175. Thin. With black glasses. Was wearing jeans and black jacket.
The results of the incident:
I didn't feel pain at all when I fought. But after I calm down and communicated with the policeman, I started to check myself on body and my belongings security.
All my knees are bruised.
I got a bad sprain on my neck.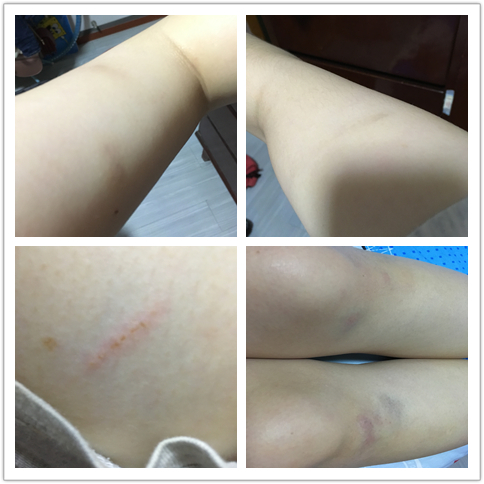 4. My backpack and suitcase are broken.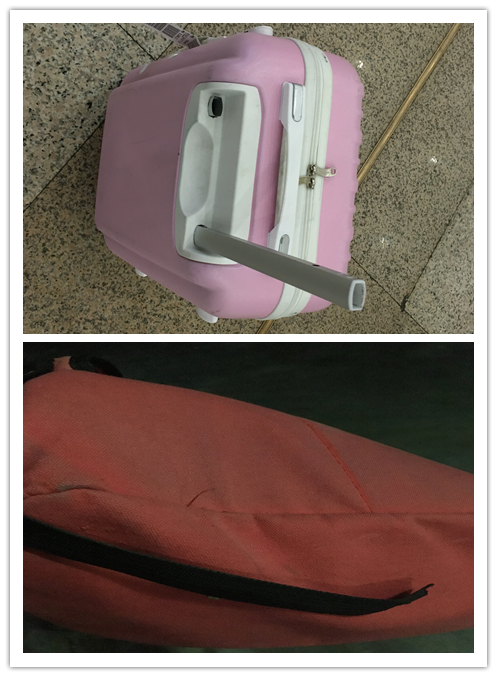 5. I lost my 300 dollars glasses.
6. Mental injury: When the scoundrel holds my neck in his arms, I was feeling like thunderstruck. I     calmed down only after one hour passed and called my family to tell the incident.
Why the incident happened on me:
Totally speaking, I was too naive and I have blind confidence on the security in Chinese big cities. It's my first time to experience indecent assault in the street from strangers. I didn't pay too much attention to it and lack of awareness leads to the incident.
After that, I talked with the policeman, as his explanation, the scoundrel who attacked me is not 'real' scoundrel. They are just normal drunk boys who did something terrible. Are they 'real' scoundrel? I wouldn't know it. But when it occurs to me if at that time there were two of them came to me, not only one. And if one of them has a knife. Then I could be raped and killed with no whole corpses. The more you think, the more fear would come.
The response speed from police alarm room was fast enough, few seconds it takes to get through. But I was so disappointed at their ability to handle emergency and professional quality of dispatcher in China. Without solving all my queries, they just emphasize their key points – 1) Girls should not go outside at early morning. 2) It's impossible for us to prevent all incidents happened. 3) We are a smaller city than Shanghai, you should be more careful when you are here. 4) You should choose the correct timetable of flight.
WTF.
And me, myself. The one who will just jump away from any strangers if they come close to me when I'm abroad. The one who is instilled all "China is super safe country" idea into her mind firmly. And me? I just thought the surroundings were police station and people's government building. Plus only 5 minutes walking, no incidents should have happened. All these thinking lead it. I don't know how other girls will choose if they were me. 5 mins walking away, by taxi or on foot?
So, it taught us, never, never ever go without partner at night, wherever you are. The one thing that you absolutely should have is eternal safety awareness.
My suggestions after the incident:
Keep eternal safety awareness in your mind wherever and whenever.
When you are walking in remote place alone, keep yourself on the alert.
You better have something to help you fighting when you're outside. Something like anti-pervert flame-throwers, pen, stun-gun or pepper spray. Even umbrella or belt would help.
Girls better try to go outside with accompanies at night. If couldn't find any, better take a safe taxi to your destination if you need to walk alone.
Don't carry too much luggage with you. They will disturb your escaping speed if you couldn't throw them away in time.
Try your best to arrange daytime flight;
Don't be afraid if you meet the similar situation. Call the police, contact your family.
If it's possible, learn some useful self-defense skills. You will be much more confident when you meet bad people.
If you feel be trailed, call the police even they didn't infringe on you. You will be safer if the police come earlier.
Don't afraid of bad people. There are millions of them. Bad things could happen to everybody. But if you are prepared, you will see the mental and physical preparation before the incident and proper management after the incident will be much more important than the incident itself.